Squared supports national police campaign
Raising awareness of the connection between homelessness and exploitation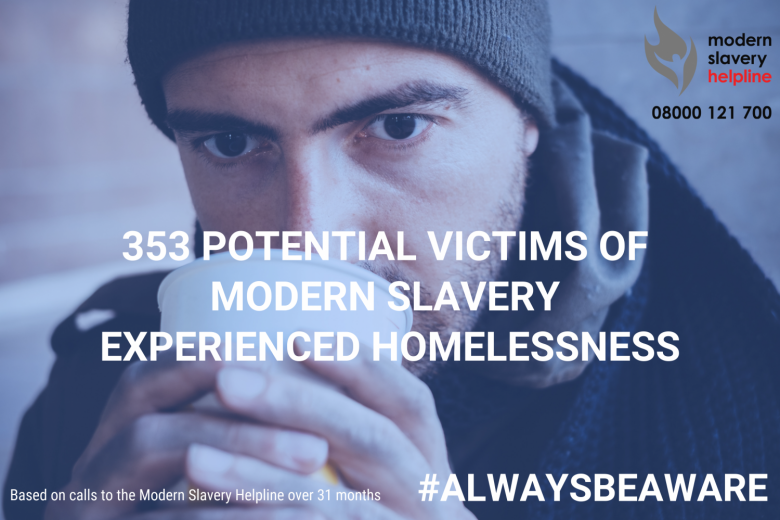 20 Aug 2019
Squared throws support behind national campaign
Bedfordshire Police is highlighting the risks of homeless people being exploited by criminal gangs as the force backs a national campaign.
The Modern Slavery Helpline has received six reports of homeless people being exploited in Bedfordshire since October 2016. The helpline was made aware of 68 potential victims of modern slavery in the county last year.
Bedfordshire Police is now partnering with Unseen, the charity behind the helpline, to raise awareness of the issue among homeless shelters and welfare services across the county.
Detective Inspector Katie Dounias, the force's modern slavery and human trafficking lead, said: "Vulnerable people such as rough sleepers in Bedfordshire are preyed upon by criminal gangs and exploited. Across the country homeless men and women are at risk of being sexually exploited, forced into work or domestic servitude. This can include being coerced into begging or shoplifting, working in cannabis farms or in entirely legitimate industries such as construction, albeit on pay equivalent to far less than the minimum wage. Organised crime has been identified as more of a threat to the country than terrorism and these organised crime groups are exploiting vulnerable people for their own benefit and profit. Unseen's campaign has rightly shone a light on this exploitation and it is really important that ourselves and different agencies across Bedfordshire are aware of this risk."
Some 262 potential cases of modern slavery were identified in Bedfordshire last year - the fifth highest of all police force areas in the UK.
Bedford and Luton also have some of the highest rates of homelessness in the whole country. The report by Unseen found 7% of all cases reported to the charity's helpline between October 2016 and April 2019 – amounting to 276 – involved a homeless victim.
Exploiters targeted homeless people at various locations such as train stations, parks, on the streets as well as at shelters, according to the findings. Recruitment was also reported to occur in workplaces and on the internet, including through social media, while a foster home and a places of worship were also recorded as locations targeted by traffickers.
Homeless charities said they had seen numerous cases of abusers entering food kitchens or even posing as rough sleepers in order to recruit vulnerable people into exploitative work.
By working in partnership with Bedfordshire Police we hope to raise awareness of this growing issue in Luton.
If you are concerned that someone you work with is at risk of criminal exploitation, you can contact police on 101 or through the online reporting centre on the Bedfordshire Police website.
Alternatively you can contact the Modern Slavery Helpline confidentially on 08000 121 700.