World Mental Health Day - the Squared view
An award winning rap album, suicide prevention and why mental health matters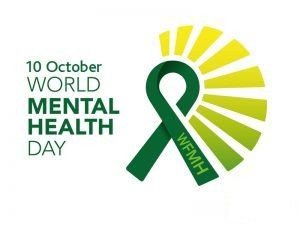 10 Oct 2019
Today is World Mental Health Day, aimed to raise awareness of mental health, with a theme this year of suicide prevention. We asked Shayra and Patricia, our Open Minds and Time to Talk therapists, to give their view on mental health and suicide prevention.
In any one year, we know that one in four adults will experience mental health problems. We all have to look after our mental health, just as anyone can experience a mental health issue at any time. While mental health is a big talking point right now, many still don't realise just how much of an influence this has on our culture and society. For instance, did you know that Dave's award-winning rap album Psychodrama was inspired by the therapy Dave's brother received in prison?
Those living in temporary accommodation or at risk of being homeless have particularly high rates of mental health challenges, often due to adverse experiences. These problems affect our ability to make it through the day, to sustain relationships and to work. Substance or alcohol abuse are frequently due to underlying trauma or other mental health issues. Therefore, it is important to get support when experiencing common mental health problems, including depression (low mood), anxiety and trauma.
Despite the increasing conversation and growing awareness around mental health, the number of attempted suicides in the UK over the last few years is very worrying. Particularly worrying is the sharp rise in young women attempting suicide over the last ten years. According to the Office for National Statistics, suicide rates in 10-24 year old females in the UK has increased significantly since 2012 to its highest level in 2018.
In terms of preventing suicide, speaking to a therapist can be a hugely helpful step. Sharing feelings and talking with another person about what is happening for you can make a big difference. Talking to a friend or support worker is also another important step, if you don't feel ready for therapy or haven't yet been referred.
Suicidal feelings often peak and then reduce, but when they are heightened it is common to feel despair. Like any extreme feelings, suicidal thoughts and feelings often flux and change, so it is key to keep people safe in times of crisis, to allow things to settle down enough to be able to explore, with support, what needs to be changed or what can help. A sense of hopelessness and helplessness tend to drive suicidal feelings, and these feelings are signs that something needs to change.
At Squared we have two different therapy services: Open Minds for hostel residents across Luton and Time to Talk Therapy for all tenants of our Homes with Support. Speak to your support worker or resident coach to get referred for therapy, or to find out more about what is involved. After an initial appointment, sessions would be weekly.
Open Minds and Time to Talk are here for you, to support you to make positive changes in your life.
Remember that you can call Samaritans 24/7 free on 116 123, and if you or someone you know are at immediate risk of acting on suicidal urges, go to your local A&E to see the duty mental health professional.